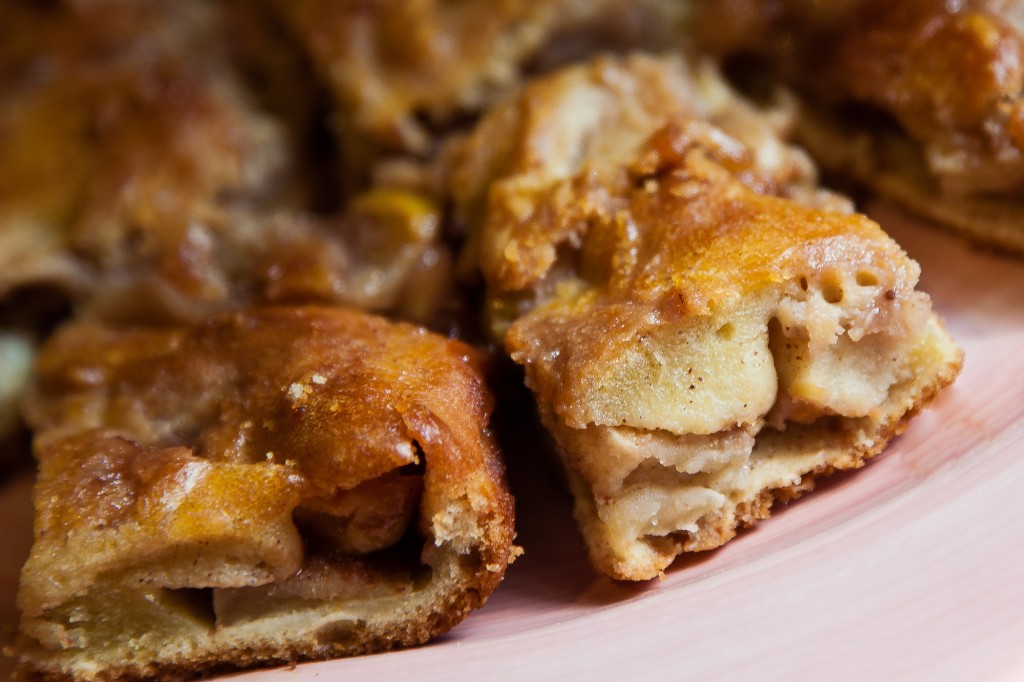 Tonight we celebrate the first night of Passover with the Seder and the retelling of the story of the exodus of the Jews from Egypt and slavery (For more info, see Disney's The Prince of Egypt.) Growing up, all we ever knew were the things we could not have on passover (bread, pasta, etc.) but lately more and more companies are putting out products for passover that I wouldn't eat during the rest of the year. Feh.
This recipe is something that could be eaten year-round. My mother used to make this for us in Poland when I was younger. It's so delicious,  it will make you forget that it's passover. Almost.
Enjoy!
Here's what you'll need for this recipe:
2 – mixing bowls
1 – 13 X 9 baking pan
Ingredients:
6 Eggs
1 ¼ cups sugar
¾ cup oil
½ cup orange juice
¾ cup potato starch
1 ½ cups cake meal
6 apples, peeled and cut up
½ cup cinnamon sugar
Strawberry preserves
Preparation:
Mix apples with cinnamon sugar and set aside.  Mix eggs, oil, juice and sugar until well blended. Add potato starch and cake meal and mix until smooth.  Grease 13 X 9 pan with oil, pour in half of the batter, and put apple mixture on top of batter. Drop strawberry preserves by spoonful over apple mixture.  Cover with remaining batter.  Drizzle some more strawberry preserves over top of cake and using a small spatula, zig zag preserves over the surface of the cake.  Bake at 350 degrees for one hour.
Tags: apple, baking, cake, cooking, dessert, kosher, passover, recipe